TRANSFORMATIONAL LEADERSHIP PROGRAM
We develop transformational leaders. The unique experience that helps to discover your inner leader.
It is all about people.
Decisions are taken and implemented by people.
Strategies are set and executed by people.
Success and Failure are created by people.
This program is for individuals who are ready to discover their inner leader. Whether you are an experienced manager or a team leader getting ready for the next step in your management career path this program is for you. 
This is a unique leadership program designed to uncover your leadership potential and beyond!
What This Course Will Cover?
The course will cover the leadership competencies grouped in 4 individual modules.
The ``Leadership Inner Work` Model ​
This is a special module developed by our master trainer Ebru Sznapkova. The inner work enables you to connect with within. This is an inside out program that helps you to discover, connect and live your inner leadership potential inside out.
Boost your confidence source your life with courage!
Comprehensive 'Live-Online' Training
This program is delivered live online that will help you to secure one the most important assets of a manager– time.  The live- online course will enable you to join the course from your work, home, travel or holiday destination.
You will be given with coursework after each module to complete. The tools and the techniques will be provided to complete the coursework.
On This Course, You Will Learn
How to identify the authentic leader within through the INNER WORK Module.  
You will develop leadership competences that are covered through out the each module.
Participants will receive certificate of attendance upon successfully Leadership Academy; Transformational Leadership course.
Ebru Sznapkova
Course Instructor and Trainer
Ebru Sznapkova is the co-founder of Prague Training Academy. She is a transformational coach, trainer and consultant. During her snr.leadership experience at most leading corporates; she established highly performing international teams, organization departments covering EMEA region, grew professionals into next level leadership roles. Since 2013 she is delivering trainings under academy.
Lidia Barbutu
Leadership Coach
I am a leader, a mother, and a woman. I empower people to be at their best, to achieve more and unleash their potential. I do this by sharing my personal story, mentoring, and coaching.
Helle
Leadership Coach
Helle is a coach focusing on fast-tracking professional development for:
Leaders – new and established
Entrepreneurs – who want to properly understand what to focus on to make their business work
Experienced professionals – who are feeling a little stuck
Those at the beginning their career – who want to know how to get on
Helle is a qualified and experienced coach, having trained in NLP she is also a mentor for a "Women helping women in business" program as well as "Mentor Exchange" with the Nordic chambers of commerce in Prague.
Helle is VP of Shared Services in Pharma, which keeps her up-to-date with the continuously developing demands of the corporate world. Empathetic and driven, she is dedicated to sharing her hard-earned and successful experience to help clients move forwards from where they currently are to where they want to in the shortest possible time by taking the right actions at the right time.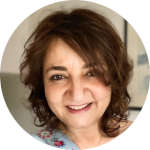 Roya Ravanbakhsh
Leadership Coach
Result-driven, natural leader and firm believer in infinite potential of people. Supports and sustains performance models in multicultural environments, but also successfully implements and drives organizational change programs.
Marketing & Sales expert offering a depth of experience – 25 years' Senior Executive management – various sectors in BtoC and BtoB Services, Distribution, Retail, Digital, FMCG, Publishing & Advertising
Katalin Ertsey

Leadership Coach
Katalin worked for 15 years for various international NGOs in executive and consultant roles, then moved on to the corporate sector advising clients on business ethics, Corporate Social Responsibility and diversity issues in the telecom and media sectors, and government agencies.
She served as an MP in the Hungarian parliament for the Green Party working on women's issues, consumer protection and foreign affairs. She started her foreign service in Prague in 2016, working on science, innovation projects and startups. She participated in a women's business mission to Israel to study their innovation and startup ecosystem. She has a long and diverse experience in all three sectors – nonprofit, corporate and government – and built up special intercultural skills by living in several countries.
She puts all this to use by mentoring and coaching business leaders, and she is passionate about supporting women in fulfilling their potential. Her niche in coaching is ethical decision-making, crisis management, women, diversity and corporate social responsibility and politics.